What are you afraid to say?
I've been thinking a lot about the silence spaces that fill so many of our day-to-day conversations and relationships.
We converse with a loved one about something overflowing with authenticity. But then for a multitude of reasons, we don't speak of it again for years. An in between space.
A friend's flippant comment offends us. But there never seems to be time to really talk about it again. An in between space.
A family member shames us with words. But we don't feel the relationship is safe enough to enter the waters of reconciliation.  An in between space.
Bottom line: for right or wrong, in so much of our lives, I believe we're afraid to speak. Our relationships get stuck. We accept the in between space as all we can do. 
But at what cost? Joy? Peace? The contentment of living well?
I just finished Kate Bowler's new book, Everything Happens for a Reason and Other Lies I've Loved-- a memoir about grief, cancer and dying that has recently hit the New York Times Best Seller list. It's full of beautiful prose. Prose I highly recommend to you.
One of the things that impressed me right away about Kate's experience of a terminal illness (a stage 4 cancer sentence nonetheless) was her crushing defiance of any space in between.
As soon as she heard that she had months to live (which has now turned into years thanks to a clinical trial), the bullshit games of her relationships ended.
Coming out of her first post-cancer diagnosis surgery, Kate describes sitting next to a beloved friend saying this:
"Oh my dear one, it's time. It's time to go. You can leave your career! . . If you stay a bitterness is going eat up everything I love about you." 
I can imagine that Kate's directness would not have happened if it weren't for her reality. And, I can imagine sensitivity to her friend's feelings might have held her back. Fear would have gotten the last word.
But it didn't. The space in between the two friends vanished.
So today, I'm wondering this: what does it take for us to live brave like this? 
How can you and I shatter the space in between the keeps us from dear ones in our lives? How can we have more conversations that matter?
I'm writing today not because I have an answer to my question. Only this insight:
It takes two people to tango. 
Reconciliation. New beginnings. Truth-telling. All of these beautiful acts do not happen if two people aren't open and willing people don't show up. AND
Push through the fear.
Bring up the hard stuff.
Listen.
Be willing to say: "I'm wrong."
Make amends if needed.
Lean into love, the kind of love that is patient and kind.
And most of all, value RELATIONSHIPS over being right or doing what we want all of the time.
It's a commitment do our part before we give up. 
In the end, I believe this is gospel work. Showing up like this is good news. Telling the truth is the good news. Abiding with people is the good news.
And it's work I know I'm called to do in this world filled so much fear, so many relationships that need mending. What about you?
____________________
P.S. If you are in the Washington, DC area and would like to get together with a group to discuss Everything Happens for a Reason, join us at The Palisades Community Church on March 14th at 7pm. Let me know you are coming and I'll reserve you a spot.
P.S.S. Are you on Instagram? Let's connect over there. @Elizabethhagan I can't wait to see your pictures.
A couple of weeks ago I shared with you that my word for 2018 was connection. I wrote about the frustration I've felt about how busyness and schedules and how life seems to keep me from what I most crave: connection.
I told you that I wanted MORE when it came to my friendships and how our home was used to build community.
It was a bold intention, I suppose, and I had no idea how it would all play out. But, as I stand here at the beginning of February, I'm excited. Connection is finding me.
Here's 4 things I'm learning. I'd thought I'd share because maybe it might be of help to you too. 
Ask someone to dinner. 
So many of us wait on the invitation. We don't take initiative. We forget our home can be used for good. Or that meals can be part of the sacred everyday.
Not everyone has the time and space of life to do this, I know. But, I am. Having a small child means that my evening routines are full of structure and predictability. I cook more than I ever had in my life. Why not include one more? (And no need to make it fancy. Home cooked meals are so rare after all even if it came from a box!)
In the past couple of weeks, our supper table has included friends and colleagues alike. Though it of course means more dishes to clean, I'm always glad the night happened. 
Travel to see people if you need to. 
Costs. Work. And schedules mean that we can't always travel. But if you were to ask me one thing that I want to spend my extra income on, it's always travel. I will spend money on travel any day if it takes me to visit someone who builds up my soul.
Two weeks ago I did just that. When Kevin asked me what I wanted for Christmas I said, "a trip to Oklahoma" and with a whisper I also asked, "By myself?" And that's just what I got: a couple of days to be around people who feel like family to me without the distractions of caring for anyone else.
And I was all the better for being HOME. 
Notice those who care about connection like you do. 
Isolation is an easy disease to take on (as I was doing). It's so easy to think "you're the only one" when to comes to your longings. But if you open your eyes to conversations and spaces you find yourself in you might just notice new people. Or people who were there all the time who are hoping for what you are too.
In the past two weeks, I've sat across the table from two friends, both of whom I've known for a long time, sharing with me their same frustrations about the "I'm busy" culture. We've nodded our heads together. And we've echoed how much we want more for our how we spend our days with delightful people in them!
So what a great place to start: the people I don't have convince that connection is so important!

Surround yourself with art.  
Art can often say what we do not yet have words for yet. Go to any play. Read poetry. Watch a documentary. View an art show and you'll often walk away with breathless awe of what you're feeling.
For as much as I knew "I wanted more connection" I wasn't really sure what it looked like.
But, recently I've found myself watching a lot of the BBC show, Call the Midwife on Netflix. Though I've watched seasons of it before, I'd never finished the series and I'm glad that now I am. Each episode is full of people working together, depending on each other, wading in the deep waters of grief, loss and love without limits.  Though it's set in the 1950s and 60s and so much about our culture is different, I can't help but watch it and long for what is present in the show in my life too. This seeing is exactly the gift of art! We see.
What about you? How are you living into your intentions of the New Year? And if connection is something you're hoping for, how is it going?
XOXO
Elizabeth
P.S. Like what you've been reading with me? Want to share with a friend? Here's how. 
Do you have a word for 2018?
I'm not sure when the tradition started but I love beginning each new year with a word. It's a spiritual practice to let my intuition take the lead and hover in a particular place.
I can remember one year when my word was "abundance." I was coming out of a long, hard season and abundance was God's invitation to me to accept goodness in my story again.
I can remember one year when my word was "surrender." I'd been struggling for a long time with some very clear ideas of what I wanted my life to look like. And the word of surrender was God's invitation for me to stop all my planning and just be.
But what about this year?  What will my word be? 
For now, I'm leaning into the word "connection." I think connection will be my word for 2018.
I believe I arrived here because the final months of 2018 have been filled with lots of frustration about the difficulty of creating community.
I've felt frustration with how complicated schedules keep local friends of mine from ever actually seeing each other. I've felt frustration with how following each other on Facebook becomes the only way I  "keep in touch" with people I love so much. I've felt frustration with how hard it is to do life with a group of people besides those who actually reside in my house.
And as much as I love doing life with the two awesome people who share my last name, I want more. I want more authentic community.
I want people to show up as big for me and my family. And I want to do the same for them.
I want our home to be more of a gathering point for more laugher and rest for those who need it the most.
I want more friends with whom have regular dates, traditions and "come hell or high water" we will hang out with one another evenings no matter if we have kids at home or not.
And I don't think this feeling I'm noticing is unique to me.
Back in September, I took on a new pastorate. I'm currently at the helm of a Washington, DC church. Such a role gives me a front row seat to people's lives, schedules and values related to community building.
And I have to tell you, what I'm finding all over again (as I did in other congregations) is that it's not just my household that struggles with connection. The temptation to isolate ourselves in our over stimulated age is very real especially in the Washington, DC area where I live.
We travel a lot.
We work a lot.
We have extra commitments that ask a lot of us.
And, in all of this: we're exhausted. Working on deepening our relationships just feels like one more thing. Showing up regularly for community building is something we don't have time for . . .
But as for me, I want to chart a different course. I wan to say to the universe, to God and to any of you reading this blog post right now that I want more connection in my life.
I want to host more weekly dinners around my dinning room table. (Who wants to invite themselves over?)
I want to be more intentional about hanging out with those who want to be intentional with me.
I want to open up my heart to new relationships that are full of soul-ful connection.
I want more. 
And I want more for the church where I'm serving too. I want them to know and love each other in deeper ways too. I want them to be community that becomes even more committed to each other in 2018.
What about you?
What's are you hoping for in the year to come? It's ok to long for more!
There's a post I've needed to write all week. It starts like this,"Goodbye, dear Fran."
Fran died on Tuesday morning breaking my heart.
I first met Fran in 2007. I was her pastor. I started visiting her at the senior pastor's request as part of my associate pastor job. But before I knew it, I was at her house more than was asked of me. I was in a season of life that didn't really fit me. But with Fran I always seemed to fit in just fine.
She was a 83-year-old shut-in. Well, sort of. While it was true, Fran lived in her home alone, she got along ok. She drove her own car with pride (though honestly I held my breath when I rode with her). She came to church every week, Sunday School and worship alike. She got her hair done at JCPenney's as part of her routine. And, she bought her own groceries and made her own food. She was always up for a meal out if it involved a person she liked and Chinese, Ledo's pizza or Italian.
I kept going back to see her during that two-year tenure in her town because there was something about my conversations with Fran that always left me better.
This was the magic: Fran saw me. 
When we first met, Fran saw my gifts for preaching (and especially loved that she could hear me when I spoke without having to turn up her hearing aids).
Fran saw that I was lonely living out on my own for the first time in Gaithersburg, when all my friends and husband-to-be lived in DC.
Fran saw that I worried about being true to myself and living out my calling. There were many days when it all felt too confusing. "You'll get there, Elizabeth. You will."
And when Fran came to my church office the day I told her that I was leaving (another congregation called me to be their solo pastor across town), we both wept. We wept and wept and wept. But she knew I needed to go. "You are meant to be in the pulpit every week," she reminded me over and over again. "But don't forget me."
I promised her I wouldn't as she and several other members of the church treated me to a goodbye lunch.
And I didn't. Over the next several months, we crossed the bridge together of becoming friends.
And this was the magic: I saw Fran. 
I saw that Fran was a member of a church that didn't always get her either. (Never lacking of opinions, Fran wasn't afraid to say a project or budget item was foolish).
I saw that Fran was a person that enjoyed a rich conversation, even though she lived alone. People don't have these very often in our fast paced everything.
I saw Fran as a person with much to offer the world-- if even just in talking to me for the afternoon-- at age 84, 86 and 88. As I left her house, she watched me pull out of the driveway as she waved mouthing: "I love you."
I loved her too. It's no small thing to be seen and heard. It's no small thing to know you're always welcome even if you don't call before you come over. It's no small thing to know you can tell any story that needs to come out, even if you've shared it 5 times before.
The cherry on top was the fact that she and my husband shared a birthday. So even as life took me to places like Oklahoma (which she wasn't happy about), Kenya, Honduras and beyond, we always kept up on the phone and through visits when I was back in the area.
Almost three years ago, Kevin and Fran even shared a birthday lunch together over pizza with me picking up the check. It was her 90th.
There's a book I finished on Monday morning, only minutes before I heard she was reaching the final end-- Adopted: the sacrament of belonging in a fractured world by Kelley Nikondeha.
In the final chapter, Nikondeha writes this, "God's family stretches beyond our smaller notions of biological or ethnic connection.  . . . It's the continual work of the prophets and the Spirit to open our eyes to this simple yet astounding truth: Anyone can be our family if we let them."
Fran was my family. I'm glad God made it so.
In recent years she celebrated with me the purchase of what Kevin and I hope will be our forever home wanting to see pictures of every room.
She cheered on the publication of my book Birthed and read every word last winter, telling me with tears in her eyes how much my story of perseverance meant to her. "You've got wise things to say to people, Elizabeth, even us old people. We need to learn from you."
And with much joy she welcomed my daughter into her loving embrace as well. Giving my girl the short, but powerful gift of having a "great-grandmother" something I couldn't have offered her without Fran. For Christmas last year she wrote my daughter a $15 check with a card. So sweet!
One day, I'll tell my daughter about these memories of Fran.
I'll tell her that when she meets people who truly see her, like Fran did me, she'll need to stay close. I'll tell my daughter the most beautiful parts of life emerge when we plant both feet of ours in the space of love. Sure, it will hurt like hell when they leave us. But, our hearts will have been forever molded into something so real. Our souls will be filled with such belonging because of love's pure joy.
Fran wasn't afraid of death in the end. When I visited her four Sundays ago and she told me, "Now, don't be afraid to pray for me to die. I'm ready."
This I know for sure: Fran's story will forever be a part of mine. Her life, her living room, her telephone opened up space for me to be me. I belonged.  And truly what is better than this?
Goodbye, dear Fran. You will be missed more than you know. And I hope I don't cry too much on Monday morning when I lead your funeral. You deserve the best because you were the best.
Who do you trust?
When do you trust more?
Why do you trust less?
These are questions I think about a lot as pastor who helps others talk about their relationships, as a friend who wants to listen well and as person who cares about the health of my soul.
Throughout my life, like many of you, I've wrestled much with the two extremes of trust: trusting the wrong people too much AND the right people not enough. It boils down to two words: shoulds and woulds.
Our lives our filled with the obligations of "shoulds."
I think I should confide in particular people because our shared history demands it.
But they don't call me (unless I call them). We really don't have much of anything in common to do when we are in the same space. And, our time together could be summed up by mixed signals and hurt feelings.
But, still I offer up part of myself to these relationships out of the obligation of should. And I just feel gross afterwards.
And there are the unrealized "woulds."
There are those I would like to get to know better.
I am attracted to their energy and way of being in the world. I admire their presence in a room from the start, and conversations move quickly from small talk to the real stuff (my favorite!). I can't wait till our next get-together.
But, then I share too little of myself with these people out of fear, putting the would of the friendship in the distant future when I have more courage.
But isn't life too short for all of this unnecessary pain and delayed blessings?
Over the past year, I'm so glad to have found a new teacher in Brene Brown-- an acclaimed shame and vulnerability researcher made famous several years ago by this must watch Ted Talk.  Consider this object lesson, Brown writes about in her 2012 book, Daring Greatly.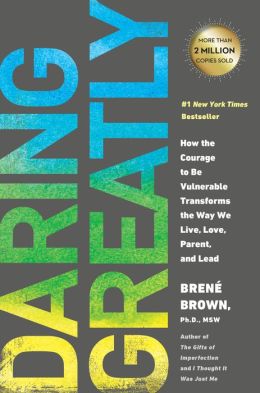 When Brown's 3rd grade daughter, Ellen, came crying from school one day about some caddy girls on the playground who shared her secrets in a way she did not intend, Brown invited Ellen to think about the marble jar that sat in the middle of her classroom.
Ellen's teacher, you see, had a practice of putting marbles in a large jar on a regular basis when the children followed the rules and worked together well as a team. When they misbehaved and disrespected the rules and one another, she took marbles out. When the bucket brimmed at the top, the class got a big reward like a pizza or ice cream party.
Brown says this: "I told Ellen to think about her friendships as marble jars. Whenever someone supports you, or is kind to you, or sticks up for you, or honors what you share with them as private, [it's like] putting marbles in a jar. When people are mean, or disrespectful, or share your secrets, marbles come out.  . . . Trust is built one marble at a time."
Or in other words, pay attention to who puts marbles in your jar and who takes them out.
It's not that you cut yourself from relationship from the "marble takers" but you don't give your secrets, dreams or power to them. You save the best for who has earned your trust (and visa versa).
And I have to say, this marble illustration has been such a big gift to me. I've trusted differently.
I've said "YES" and "NO" with greater clarity.
I don't begin as many sentences with an  "I should."
My heart rests easier at night with joy with more "woulds" realized.
I find myself musing, "I can't believe this is how I'm living my life!"
So, what about you? Have you looked at your jar lately?
I Will Bless You To Bless Others
Genesis 12:1-9
Watonga Baptist Indian Mission, Watonga, OK
July 7, 2013
When is the last time that you said to someone "Bless you?"
Usually the most frequent time we say this is when someone sneezes. "Ahhchooo!" And you say, "Bless you."
Or maybe when we're getting ready to say goodbye to a friend or someone special. We say, "Bless you or God bless you."
Or maybe even some of us have had a time in our life when someone has blessed us. For example, a loved one has sent us a special card on Mother's or Father's day or our birthday, simply to say: "I'm so glad you're in my life" or "I'm so glad you were born."
I can remember a special event in my life completely centered around the idea of others blessing me. On November 4, 2006, after finishing all the necessary coursework and ordination interviews, I was ordained to the gospel ministry. It was a cold fall day in Washington, DC when my friends and family gathered at Calvary Baptist Church to pray and lay hands of blessing on me. (Actual picture to the right of the service).
While it was a wonderful service of music, scripture reading and prayer and even a really nice reception that my mother-in-law and father-in-law to be put together for the occasion—what I really remember the most about the day is not these things. Rather, it is the blessing I received.
I don't know if you've been to ordination service recently or even ever. But there comes a time in every service of this nature that the congregation lays hands on the person(s) being ordained (or called out) to ministry of some kind. It's a time when those attending the service offer words of blessing in the ear of the man or woman being commissioned for service.
On this day, family and friends said so many encouraging things to me and I remember several of the blessing prayers word for word (even still to this day), but there's one blessing in particular that I want to share with you today.
A dear friend's husband came up to me, "I bless your feet. I bless your hands. I bless your head. I bless your ears. I bless you so that you can bless others."
I was a bit taken back by these words in the telling as this friend's husband who I barely knew at the time was actually touching my feet, my heads, and my ears as he spoke.
Yet, even with these memorable mannerisms, the heart of what he was saying was: "I want to bless you, Elizabeth so that you can bless other people in your ministry." And what an awesome act of commissioning it was! Nearly seven years later I still remember this moment vividly! These were words spoken into my life (though I didn't fully understand them at the time) that would become beacons of encouragement, moving me in the right direction especially on days when I wondered why in the world would I be called to serve as I am.
In our Old Testament lesson for this morning, we encounter a radical act of blessing that too would continue to unfold over time. It's the first time in the entire narrative of scripture that we read of a particular blessing to a particular person. And this particular person is called Abram. We may know him more widely as Abraham (it's the same guy, just before his relationship with God would later change his name).
I want to turn back one chapter from the scripture we just read to Genesis 11 so that we can get the full story of what was going on in the story between Creator God and God's creation prior to Abram encountering the Lord in Genesis 12.
As you might recall, some of the earliest stories of scripture are about God reaching out in relationship to all of human kind . . . stories like Adam and Eve in the garden and Noah building an ark. Yet, things didn't go so well from the start. As much as God tried to be in relationship with all human kind, humanity kept rejecting God's ways of how relationship would form. Adam and Eve were kicked out of the garden. The whole world besides Noah and his family were destroyed in a flood.
And by the time we get to Genesis 11, we learn that everyone gathered in one place, and decided to build a tower to the heavens in an effort to reach God Himself. (God and humanity still did not understand each other!)
But what does the Lord do? Scripture tells us that the Lord comes down and confuses their tongues. And all the tribes and peoples of the world scatter—each group going their own way, speaking their own language.
God's plans of being in relationship with humanity seem lost. It seems like one big fail. Scatter is the key word.
But if there is anything we know about God, God keeps trying. God keeps pursuing. A new plan will have to emerge. God created human kind after all for: relationship with the Lord
And we read about this Plan B in Genesis 12. A God who was once scattering is now gathering AND speaking a particular word to a particular person named Abram saying, "Leave your country, your people, and your father's household and go the land I will show you."
God gives Abram something very specific—to leave his home, to leave the familiar and to go to the place where God would show him.
When we think of calls of God coming to people—particular assignments—in our country, we often think of calls
coming to people who are usually middle-aged. You know, old enough not to be young . . . yet, educated and full of natural energy to get the job done. Or as I like to say it, men in their 40s with 2.5 kids and a beautiful wife: what everyone seems to want in their leader.
But did you notice when I read in verse 4 how old Abram was? 75 years old! He was not in his "young" and "prime" years. But God didn't care about any of those conventional things.
Can you imagine the call of God coming to you at the ripe age of 75 years old? Can you imagine leaving your home place, your family, your tribe at this age simply because God told you to move?
But let's take a closer look and discover why Abram had to leave and what exactly this mission was. Verse 2 gives us particular reasons. God says to Abram:
"I will make you into a great nation and I will bless you. I will make your name great, and you will be a blessing. I will bless those who bless you, and whoever curses you I will curse; and all peoples on earth will be blessed through you."
Abram was asked by God, you see, to leave all he knew and follow the leading of the Lord for one huge reason: to bless others.
It wasn't going to be a mission about some special seat of privilege for him.
It wasn't even going to be about Abram's immediate family being honored in some special way.
It was going to be about every living human being from this point on in history somehow being connected to the family that Abram was going to be the father of . . . Father Abraham would have many sons as the children's song goes.
God wanted to draw all people again to himself, and this time the plan would be to work through a particular person with a particular mission. And the mission was all about blessing.
But what exactly does this mean? What does it is mean to bless others?
I think it is more than saying, "Bless you" when a person sneezes or even more than the times when we lay hands on someone becoming a minister during the course of a special service . . . rather in this first case of blessing, God's call came to Abram that day as a promise. It was about his being a keeper of a promise. And this would be the blessing.
You see, if we skip ahead and read more of what happened to Abram as his story unfolded, we realize that ultimately Abram never saw "all people of the earth" being "blessed through him." In fact, so much of his story is about struggling to know the path to add that desired son to his family—as childbearing didn't come natural to his wife.
And so as much as God told Abram that he was to be the father of a great nation, when he looked around his life, he was the biological father of no one at the time. He had no offspring.
But to this the LORD says to Abram in chapter 12, verse 7, "To your offspring I will give this land."
It was quite a bold blessing. Don't you think so? To tell a man who has no kids and whose wife is past childbearing act that to your offspring, I will give this land? Some folks might even call a God like this crazy.
Sure in a few years a child would finally come into Abram's life: Isaac, but never would Abram get to snap his fingers and see the full picture of what God's blessing "for all people" was about. Abraham would go on to die a death without ever seeing the promised land.
But this is exactly the point that I believe our text wants us to see today.
God calls us to blessing so that we can hold on to a promise that we may never see with our own eyes fulfilled, but that we get to set in motion.
"I will bless you to bless others."
In the late 1970s a revolution began in the Latin American country of El Salvador. An oppressive regime ruled and took this once peaceful land into a state of chaos. The poor of the nation became even more oppressed than they previously felt. Church leaders feared what the government leaders would do if they didn't side with them. Most church leaders went so far as to sign pacts, ignoring the cries of the poor and the needy in their midst.
Yet there were some pastors and priests who stuck close to the message of Jesus and God's love for all people and refused to do as the government leadership wanted from them. The priest Oscar Romero was one of them. All his life he had been just a normal priest—going about the daily work of caring for his parish, later being promoted, though to the position of Archbishop. Yet, there came a day when he could not allow injustice to continue. By 1979, Oscar Romero was fully committed to being a voice for the poor—even going as far to criticize the United States government for giving aid to the El Salvadorian government.
He sermons and speeches became a powerful voice of God's love for all . . . even if it wasn't the most popular thing to say. The following is his famous prayer about how he understood what it meant to be blessed so that others could be blessed through him—seeing the big picture. He prayed:
It helps, now and then, to step back and take a long view.
The Kingdom is not only beyond our efforts,
it is even beyond our vision.
We accomplish in our lifetime only a tiny fraction
of the magnificent enterprise that is God's work.
Nothing we do is complete,
which is a way of saying that the Kingdom always lies beyond us. . . .
We plant the seeds that one day will grow.
We water seeds already planted,
knowing that they hold future promise.
We lay foundations that will need further development.
We provide yeast that produces effects far beyond our capabilities.
We cannot do everything,
and there is a sense of liberation in realizing that.
This enables us to do something,
and to do it very well.
It may be incomplete, but it is a beginning, a step along the way,
an opportunity for the Lord's grace to enter and do the rest.
We may never see the end results,
but that is the difference between the master builder and the worker.
We are workers, not master builders;
ministers, not messiahs.
We are prophets of a future that is not our own. Amen.
And in the end, such was indeed true with Oscar Romero's life . . . as it also was true of Abram's life as well. Just as Abram never would be the one that would lead a multitude of people into the promise land, so Oscar Romero would not see the fruit of his calls to justice either.
In fact while celebrating mass in his church on March 24, 1980, he was assassinated while holding up the communion cup in front of the altar. Romero died while in the act of holding on to the promise that God wanted all people of El Salvador to be blessed equally.
Yet, today the memory of Romero lives on, inspiring the justice work of priests throughout El Salvador. Even though the first democratic government was elected four years ago, danger, unrest and lack of concern for the poor of the land lives on. Romero's death encourages a new generation of leaders who believe as he did that Jesus calls us to care for the needs of all people.
"I will bless you to bless others."
It's hard to be ok with this kind of blessing. It goes against every instant gratification bone in our body. It might even seem like a waste of time to believe that God wants to use us—just as God used Abram and Oscar Romero—to hold on to promises that are to be fulfilled in what is to come and not in our lifetime.
But as Romero prayed, "We are prophets in a future that is not our own."
How will you allow God to bless you?
How will you allow God to bless others then through you?
How will you wait with the promise of blessing with what you can not see or touch or feel right now, but is to come?
How will you follow in the steps of Father Abraham claiming a good, good future but is not your own, but of the Lord?
Let us seek the Lord together as we ask for God's blessing this day as we seek to answer these questions in community.
AMEN
Waiting with the Shepherds
Luke 2:8-12
Who is on your list of people that you don't like?
Of course, talking about people who we don't like isn't really something we often do in public, especially in church. And, I know it is Christmas. Most of us are well on our way to be appearing to be nicer than we seem with the corporate theme of "Peace on earth and goodwill toward all men"
But, seriously, I'm asking. Who is on your list of people you don't like?
We all have them.
From the mechanic who installed faulty brakes in our car just last week to the neighbor who wakes up at 6 am and starts the leaf blower or the chainsaw directly below our bedroom window.
To the family member who tells racist jokes about our dear friends, even when we ask them to stop.
And horrifically, to the shooter who changed the world as we knew it on Friday morning—when 26 precious lives were taken from this world by gunfire at their elementary school.
(Such is of course an example of "people we don't like" that I didn't plan on including in my sermon for this morning. But nonetheless it happened. If you are like me, as the scenes of parents picking up their children from Sandy Hook Elementary rolled across the television screen on Friday and reports of how many parents would not —I couldn't help but think oh so mean thoughts about the kind of person who would do such to innocent little children in school. Very mean thoughts in fact).
From the trivial to the tragic, there are plenty of really valid reasons to not like people—even as we know our calling as people of faith is to "love one another." It is as my husband says to me after we've had a "friendly" marital dispute: "Honey, I love you but I just don't like you right now." (Anybody ever had been in this place too?). We all have people in our lives that we just don't like, even if we love them or know that we should love them.
And along these lines, I suggest that the sermon title for this morning should be changed from: "Waiting with the Shepherds" to "Waiting with the Despised" or "Waiting with those whom we belittle" For the small chunk of our beloved Christmas story before us today features a group of folks who were very much disliked in their time. Though for many reasons that maybe weren't fair—prejudge and classism— the shepherds were put down nonetheless.
When I say "shepherds" it's hard to get your mind around the idea of the association of not liking them, isn't it?
If you know anything about Biblical history, you know that scripture is full of stories about shepherds. If you are a child growing up in children's Sunday School as some of us were—you learn how to get good at sheep crafts because there are lots of lessons by which they apply. I can't tell you how many cotton ball sheep I made in all my years of church classes.
Pertaining to sheep, we tend to think favorably of them. Moses was a shepherd when God called him. So did David claim this profession and several of the prophets too. What more beloved passage of scripture do we have than Psalms 23: "The Lord is my shepherd; I shall not want?" Didn't Jesus later say, "I am the good Shepherd?
And these days- when we think shepherds we often think of cute kids with bath towels wrapped around their heads in Nativity plays.
Or we think of burly but strong characters from our coffee table manger scenes.
Or at worst we think of smelly field workers who could really use a hot bath, but not the despised.
I mean, how could we dislike characters that were among the first to worship and greet our Lord?
But, in the time of Jesus' birth, to be a shepherd was not a ticket to popularity. While sheep are cute and the Bible seems to speak of sheep and shepherds often—what we need to understand is that being a shepherd in this day and time was the modern equivalent of being a trash collector or a someone who empties the latrines of our airplanes or someone who is forced to pick up trash on the side of the road as part of the patrol from jail.
For what does a shepherd do? They raise sheep and goats—smells and all. They guide their sheep to graze in open land. They live a nomadic life without a permanent address or even a P.O. box. They put up with some of the most unpredictable creatures on earth—fuzzy, stubborn creatures who don't always go where they were led or remember to stay in the bounds of their owner's land.
It was a rough life. We don't know if they had mental health issues that had forced them outside the bounds of "normal" society. We don't know if they had addiction problems. We don't know if they had mother or fathers or wives to welcome them home once the herding was over. We don't know if they wished they had a better job—if they'd only be offered the opportunity to thrive somewhere else.
All we DO know is that to be a shepherd in Jesus' time was to be unseen by those outside of the working class like them. It was to be overworked, without holidays or weekends off. It was to be paid less those with more important jobs in palaces, the city square or even at the temple. And most of all to be shepherd was to be a little less human.
And it is to this collection of guys the multitudes of the heavenly hosts appears at night saying, "Do not be afraid; for see—I am bringing you good news of great joy for all people: to you is born this day in the city of David a Savior which is Christ the Lord."
The Presence of the Living God comes to this unlikely band of sheep herders and says, "The best thing that has ever happened to the world is in your hood. Your heavenly Father has picked you first to see it. Now, go!"
Wow—what a special invitation this all was!
But, remember our theme. Today we are talking about what it means to wait. In particular, what does it mean to learn from the waiting the shepherds did to get to this climatic moment in their lives?
Different from other sermons in this series, we're not talking today about the process of actually waiting and what it was like for the shepherds to hear the good news. Because, hey! I don't imagine that this group of fellas thought they were waiting for anything special at all. No wonder scripture tells us "they were afraid."
So, today, rather, we're taking this opportunity to wait with them, to consider that these were THE ones who were asked to attend to the birth of Christ first. What does it mean to wait for Jesus alongside the lowly among us? What does it mean to wait with those in our life this Advent season who are on our "I don't really like them very much" list?
It's one of those piercing questions because of who's on that list. I don't like to go there. I don't like to be forced to consider the fact that I think I'm better than the men who pick up my trash every Friday morning.
I bet you don't either. It's easier to go about life as if we're the most important character. It's easier to go through life as if we are kings and queens of our own kingdom, inviting only those in our lives who are we like.
But, what if we began to wait with the shepherds among us? What if we saw the world from the perspective of those in whom our society doesn't value? What might our waiting entail then?
In a mid-size US city much like ours, a man named William Well is homeless. He was interviewed recently by a television station about his story. This is what the reporter said about him:
William is a convicted felon and recovering addict who's stayed sober four months and counting.
The reporter says about William, "He's ready for the cold shoulders and weary eyes likely to greet him from the family next door, should he land a spot in supportive housing for the chronically homeless. For now, though, he'll bide his time on a waiting list."
At 59 years old, the Chicago native insists that he'd be happy just to hold down a job and mind his own business.
William says: "At this stage of my life, I wanna be able to help myself … buy my food, buy my clothes, pay my own rent,"
"You've gotta give a person a chance," he said. "It'd make me feel like a man."
But men like William who walk the streets every day aren't those who we often give a second chance too.
It's annoying sometimes to be greeted by a homeless person at an intersection of a shopping center, isn't? Or, to be greeted by someone going door to door in our neighborhood asking to do odd jobs around our yard? Or to be given a flyer by a person standing a street corner for a service or product we could care less about and becomes just one more piece of paper to have in our purse of pocket?
We look at people like this as beggars, wasting our time, or most of all suspiciously who are just going to take and take and never give back to society. We look at their criminal past and judge them without an eye for the possibilities for the future. We often don't think God could appear to them, speak through them or be the central characters in a play school children would perform for centuries to come, as the shepherds became that night.
But, the God we know of our beloved Christmas story is the God who appears to those in our world we might dislike, despise or might otherwise overlook in our busyness.
The God we know of our beloved Christmas story is the one who goes where the hungry seekers of faith are found-- those who have been rejected by the world, who are working jobs at fast food restaurants, in cleaning companies, and as street cleaners.
The God we know our beloved Christmas story is the God who often goes outside of the bounds of the city to find those who are ready to worship the Christ child—those in the trailer parks, those in the shacks of country houses, and those who find themselves camped out in the woods of Reston in the tent cities because they have nowhere else to go.
If we truly want to be people who wait with the shepherds as the third candle of our Advent this year asks us to do, then we've got to first re-orientate ourselves to the types of people that our Lord and Savior, Jesus Christ asked to come and worship Him first.
One of Bill Watterson's famous Calvin and Hobbes cartoons speaks of the type of mania we deal with this time of year: "Oh look, yet another Christmas TV special! How touching to have the meaning of Christmas brought to us by cola, fast food, and beer.... Who'd have ever guessed that product consumption, popular entertainment, and spirituality would mix so harmoniously? "
There's a popular phrase this time of year and I bet you know it. And it's "Jesus is the reason for the Season." It's kind of the Christian catch phrase we use to talk about the rise of consumerism and emphasis on all things Santa that seem to take the thunder away from Jesus.
And of course, it's true, Jesus' birth is the reason for all our preparations and waiting this Advent season, and yes, it should be our main focus.
But, I'm here today to offer you something more. Who are we waiting beside? What kind of people are we waiting with? Are we waiting for the celebration of Christ's birth this year alongside people just like us? Or are we waiting with the shepherds?
Who will be around your dinner table this Christmas? Who will you buy presents for? Who will you befriend in the New Year? If there's anything I've heard over and over about this school shooter in the past 24 hours it is that he was "a loner." Where were his friends? Where was the church?
I dare suggest that if we wait with the shepherds among us this Advent season, what we'll really find this Christmas is Jesus.
. . . Jesus who humbled himself, coming from all the lights of heavenly glories to become a baby, a tiny, helpless baby so that we could all know how much God truly loves each and every one of us
. . . Jesus who came to help the broken, the tired, the lame not the well and happy
. . . Jesus who came to teach us God's abundant grace lavished on all of us, not just the select few.
If we want to know Jesus, let us wait with the shepherds among us, let us learn of them, and most of all let's invite them in to our lives.
AMEN
Have you ever been in a situation where a houseguest has left early in the morning before you woke up?
Or you've parted ways with a friend in a mad dash to the airport without final words?
Or you haven't been able to find that favorite teacher or buddy in the midst of the large crowds at a graduation ceremony to say "thanks?"
I think we all have.
And, I hate situations like this.
I like saying goodbye. Closure is a great comfort.  Words like, "Thank you" or "I love you" Or, "I look forward to our paths crossing again" are a part of what good endings are all about.
In the church, as many pastoral leaders can tell you, we suffer from a lot of cliff hanger types of relationships with our parishioners. Lots of folks leave without telling us that they are leaving and most certainly not saying goodbye.
Someone has a spiritual or family crisis and goes from present every Sunday serving in multiple ministries to the status of "Where in the world did they go? Anybody heard from them?" in a flash second.
And in response, when contacts of concerns are made by the pastor or other caring church family folks such as: "We miss you. . . .  We hope you are alright.  . . . We hope you're still alive . . . " and there's no response.  It is a great grief is suffered when it feels like the cold shoulder is given. Leaving without saying goodbye can feel like a slap in a face to what the relationship has meant in the months and years prior.
I understand that relationships and the dramas of life are messy, though. I understand that the best possible scenario of closure just is not always possible. But, it doesn't mean that we shouldn't do a better job of holding ourselves accountable to end as well as we began.
So, as you all know, I will be leaving my post as pastor of Washington Plaza Baptist Church on December 24th.   It's a little less than a month away. And, in these next several weeks, I want to make good use of the time. I want to continue to engage in the life of the church as much as a possibly can so to make this time of transition a healthy and smooth one for everyone. And, I don't want to leave without saying goodbye.
My pastorate at WPBC has been about more than just the members or regular worship attenders. Many of you online have been a part of our church and many of you have popped in and out of our ministry as your life situations have allowed. I want to include you too. Let me not leave without getting to see you too. Consider coming back to one of our Advent worship services that begin THIS Sunday at 11 am and continue throughout the month.
I have shared with the congregation this week that I am available to meet with folks for lunch or dinner or coffee over the next several weeks. Don't hesitate to contact me to find a time to get together.
I want to say goodbye, celebrate the good work we've done together and anticipate the great future that is ahead for both of us!
I haven't left yet.
It is easy in many religious circles to push people away based on what they believe or profess.
We can't be friends anymore because you believe in evolution. I believe in creationism.
We can't be friends anymore because you believe in gay marriage. I believe marriage is between a man and a woman.
We can't be friends anymore because you believe the Bible is without errors. I believe it is full of them.
We can't be friends anymore because you believe all religious paths lead to God. I believe you must pray only one prayer to be assured of heaven at the end of it all.
Now while the exact phrase "we can't be friends" may or may not come up, the sentiment is still there. We cling to those who are like us. We tarry from those who are not. Journey into the Christian community a little bit at all and you'll find such to be true.
We love to spent our time saying who is in and who is out.
Recently while at a Barnes and Noble, I found two books in close prolixity to each other that struck me as odd. One was entitled Why the Christian Right Is Wrong and the other said Reclaiming America's Conservative Future from the Wacky Liberals. Oh how fun it is to believe we've got the correct market on God and try to make money writing about it.
But what happens when God comes close to you in someone you don't expect? What if you see the presence of God in a neighbor that your church teaches you to shun? What if you find the Spirit in a place your colleagues or family likes to label as evil?
It is when love changes things. For it is hard to cast a person or their faith aside when you begin to love them, when you begin seeing the tenderness in their soul, the deep pains of their life and the shared fears that go into making us a part of the human family.
Recently I made a new friend. We are an unlikely match. He is a fan of the seven day creation theory and likes to talk about it, a lot. I don't care one way or the other very much. He likes to go on mission trips for the sake of evangelism. I am not sure such is the best use of his resources. He is 30 years older than me too and from a part of the country that I am not particularly fond of. But we've become friends and out of this friendship I've seen his heart. I know he means well and just wants the best life can be like I do. I know he authentically wants others to experience more of God's love in his life just as he is doing. I respect him. And in my own way I wish my generosity of spirit was as deep as his.
Love changed my hardened heart about folks of "his kind" and I am making baby steps in a new direction. It's new and scary to make friends like this but wonderful too.
I can't help but think we all need to keep challenging ourselves in this way. In this week ahead of a presidential election may we all think twice before we tweet a hateful remark about "the other side." Or stop ourselves short of defriending a relative on Facebook who posts ideas we don't agree with. Or stop ourselves short of trash talking over dinner another's church with the loud worship band and projector screens when we prefer the quiet. It is the little things, we know...
May we all open room in our heart for the possibility of love changing things, finding friends on unexpected paths.
1. Best piece of advice  I ever got about becoming an adult was- "Make good friends and keep them."
I ran across this quote last week from Anne Lamott and posted it on Facebook. Seems to be appropriate to share here too: "It's funny: I always imagined when I was a kid that adults had some kind of inner toolbox full of shiny tools: the saw of discernment, the hammer of wisdom, the sandpaper of patience. But then when I grew up I found that life handed you these rusty bent old tools - friendships, prayer, conscience, honesty - and said 'do the best you can with these, they will have to do'. And mostly, against all odds, they do."
2. In the same way, I recently heard Oprah say recently something to this effect "Some people don't have the oxygen to make up life's mountains with you." Some friends are just for a season. They don't have the oxygen to climb with you, and to make them feel bad about this is not fair to either of you. Keep climbing beside those who do. You might have to make new friends. You might need to rediscover friends from long ago,  but it is all good. The climbing partners are there. Keep your eyes open.
3. There's always time for relationship surprises. Henri Nouwen wrote of a now-famous conversation which helped him think about this concept: "While visiting the  University of Notre Dame, where I had been a teacher for a few years, I met an older experienced professor who had spent most of his life there. And while we strolled over the beautiful campus, he said with a certain melancholy in his voice, "You know . . . my whole life I have been complaining that my work was constantly interrupted, until I discovered that my interruptions were my work." Maybe that phone call or email or visit that you didn't expect today could be in fact your greatest gift to give the world today . . .  something for all of us to think about.
4. Friends can be the family we most need. I give thanks this week for one of my dearest friends, Kristina whom spent a lot of time this week visiting DC with her husband and daughter. Somethings never change like the fact that folks either think we're related or they mistake us for one another from a distance. It was fun to be called, "Kristina" this week again when a church member couldn't tell us a part. And to finish each other's sentences!
5.  To love someone, though is not to cling to them. Can I say how much I have loved the book, Awareness by Anthony de Mello. It's a text that I know is not new to the world (was published in 1990) but it has been the gift that has kept on giving to my life in the past month. Every morning de Mello and I have a date and it's wonderful! And he writes this: "Perfect love casts out fear. Where there is love there are no demands, no expectations, no dependency. I do not demand that you make me happy; my happiness does not lie in you. If you were to leave me, I will not feel sorry for myself; I enjoy your company immensely, but I do not cling."
6. To love someone, is also to hold them close in committment. One of my favorite quotes about this, I blogged about this over a year ago, here.
7.  "You can only be as close to the heart of God as you allow your heart to be to others." A spiritual director imparted this wisdom to me years ago. It was a season of my life when I was wrestling with how much time I spent studying for school and how much time I allowed my daily patterns to be spent with a group of people I was growing very close to. Her words encouraged me that friendship is as much of a spiritual discipline as is prayer, quiet, service, etc.
8. Can pastors be friends with parishioners? Such is a question that is frequent discussed in my clergy circles. Most of my colleagues seem to have a different opinion about it usually based on their personality, family situation and church size. I've come to believe that while maintaining healthy boundaries is appropriate, it's a decision that everyone has to make for themselves. Sometimes it works and sometimes it doesn't.
9. Friends are those who walk beside us and love giving the good gift of silence. Sometimes there are no words for the grossness of life that we are asked to walk through with each other.
And because one can't get enough of Henri Nouwen on this topic, here's another quote of his that I adore: ""When we honestly ask ourselves which person in our lives mean the most to us, we often find that it is those who, instead of giving advice, solutions, or cures, have chosen rather to share our pain and touch our wounds with a warm and tender hand. The friend who can be silent with us in a moment of despair or confusion, who can stay with us in an hour of grief and bereavement, who can tolerate not knowing, not curing, not healing and face with us the reality of our powerlessness, that is a friend who cares." from The Road to Daybreak: A Spiritual Journey
10. True friends are those whom you tell the same story to at least 10 times knowing that when you need to tell the same story over for the 11th re-telling they'll be around to hear it then too. Who says stories only need to be heard once? Thank goodness there are those who can hear us into understanding!
Here's to hoping your life is filled with some moments to share today with those whom you call friends!
When is the last time you encountered a person of faith, in particular a Christian who was engaging in particular activities one might call "crazy?"
I know I've met my share of over the top loving kind of Christians through the years being in church as long as I have.
I've met Christians who follow Jesus to the degree in which they decide to sell their home and pack up their things and move across the world-- to third world nations sometimes even-- to share hope in medical supplies, food and friendship with some of the world's most discouraged and broken people. They do so saying, "God has called me to show Christ's love."
I've met Christians who follow Jesus to the degree in which they open up rooms in their home to internationals, struggling single mothers, or exhausted college students -- even when the person has no means to financially repay their kindness and nurture them back on their feet again. They do so citing, "God has called me to show Christ's love."
I've met Christians who follow Jesus to the degree that they'll spend hours of their free time making hospital visits to the terminally ill without family attending -- bringing a compassionate touch of support to those who would not otherwise have any. They do so citing, "God has called me to show Christ's love."
I've met Christians who follow Jesus to the degree that they ask their own young children to go without that desired toy at Christmas so that instead the money can be used to buy toys, clothes and other household items for families in their neighborhood who have recently lost everything in a destructive fire. They do so citing, "God has called me to me show Christ's love."
I've also met Christians who follow Jesus to the degree that they stop everything they are doing when they learn a member of their church has experienced a death in the family. Soon piles and piles of mac and cheese, broccoli chicken casserole, and hearty soups are delivered to the home of the grieving just in case they get hungry. They do so citing, "God has called me to show Christ' s love."
Christians can be crazy people can't that? Doing the behind the scenes work of compassionate deeds, sacrificial giving and life-giving hospitality that others in the world might find to be foolish, a waste of resources or for some, just plain dumb. But, truly Christian act-- or seek to act in love because of the life and witness of Jesus Christ.
I John 3 lays it out clearly for us here:
16 This is how we know what love is: Jesus Christ laid down his life for us.   And we ought to lay down our lives for our brothers and sisters. 17 If anyone has material possessions and sees a brother or sister in need but has no pity on them,   how can the love of God be in that person? 18 Dear children,   let us not love with words or speech but with actions and in truth.
As followers of Christ, our hearts are full of compassion for others in the same way that we know God has been compassionate toward us.
So, while sure, Christians don't have a market on this whole "loving deeds" business (a tenant of people of all world religions), we certainly are people who can't avoid it. We can't say that loving each other is some humanistic talk without spiritual value to Jesus. We can't boil our faith down to a commitment we made years ago with no evidence of it in our daily life. Just as Christ loved us and taught us how to love, we are to love one another.
I'm proud to be a member and a pastor of a church that is about the "crazy" business of loving each other and any who would come in our doors. Just a couple of weeks ago a group of homeless teens came to worship and I was so proud of how everyone responded to them feel at home. Just yesterday, we all piled our resources together and hosted a lunch for a family who recently lost their loved ones. And countless other examples could be given.  Loving other always our calling-- even when we don't agree theologically, even we don't always understand one another, even when we get on each other's nerves. We can still love. We can always love. And if they call us crazy for doing so, then this makes Jesus crazy too and we'd be in good company!
Lenten Series-- Promises in the Night:  A New Relationship
Jeremiah 31:32-34 with Mark 14: 66-72
Lent is a self-reflective time when we are asked to slow down and reconsider parts of our lives that we might just rush through at other times of the year.
So, in the spirit of the season, I'd like to ask you this morning to reflect upon a few things with me just a minute. Consider a time in your life that you wish you could forget. This could be a time when you said something hurtful to a loved one, a time that you acted out in public in an embarrassing way, or even a long stretch of time when you rebelled and turned your back on all the good things in your life. If you were standing before God at the pearly gates right now, what are the moments of your life you wish that God would forget?
PAUSE
When I think about my life, I wish God would forg
et that day I ruined my father's car by running over a cinder block (and wasn't honest about it) just one week after getting my driver's license.
I wish God would forget that day early in my marriage to Kevin that I was so angry I threw a shoe at him.
I wish God would forget the countless times I failed to love the Lord with all my heart, all my soul, and all my strength and to love my neighbor as myself.
I, like you, have many times that I wish just didn't happen-- that God would just forget.
When we meet the apostle Peter, in the latest installment of Jesus' dark night of the soul this day, we encounter him during a few moments in his life that I bet would be on his "I wish God would forget this" list too. Peter, does the unthinkable as Ken illustrated for us this morning as our worship began: he turns his back to his best friend.
And this is the scene: Jesus has just been arrested. He has been seized by the Pharisees and the chief priests and taken in for questioning. Peter follows Jesus to the courtyard of the house where the high priest held him. And though it appears that this will become his shining moment-- being the only among the named 12 disciples who even follows Jesus after his arrest-- such is not the case. No not at all.
When one of the maids, a young girl who served the high priest noticed Peter's presence and remembered his face as one of the traveling companions of Jesus, she asks in verse 66: "You were with Jesus the Nazarene" weren't you?
And though Peter should have said and could have said a simple "Yes. Yes, I was with him. Yes, I knew him." , fear paralyzes Peter. He denies any connection to this man who had inevitably changed his life saying: "I neither know nor understand what you mean."
What Peter? Are you serious Peter?  Yes, he was. He denied any knowledge of knowing Jesus.  It was going to cost him too much. Maybe they'd soon be arresting him as well. He couldn't bear the thought of that.
So, as the young girl with a good memory-- she just knows she recognizes  Peter as having been a friend of Jesus-- asks the same question and again, again and again we get the same answer. He even goes as far to swear. "I do not know this man of whom you speak."
And at that very moment, the cock crows for the second time to fulfill the prediction that Jesus had made of this "I wish I could forget it" moment of Peter's life.  Peter
remembers that the Lord had told him: "before the cock crows two times, you will deny me three times."
It might have seemed at this juncture that all was lost for Peter and his relationship with Jesus. It might have seemed that Peter royally screwed up so bad that from that moment all would be lost. It might have seemed that Jesus would never speak to him again.  It might have seen that all of those years Peter prepared for this moment where all eyes were on him to make a confession were a complete waste.
In the same way, when we read the prophetic book of Jeremiah, we could easily be completely depressed too. Jeremiah affectionately known in modern times as the prophet who should have been on Prozac but wasn't.  Scholars often called Jeremiah, the "weeping prophet".
But, why? Commentator, Wil Gafney writes of the context of Jeremiah saying, "Jeremiah lived through the demise of his civilization when the Babylonians invaded Judah, assaulted Jerusalem, and reduced the temple to rubble, exiling, or killing the royal family, priests, prophets, and majority of the population."[i] The nation of Israel turned their back on God's plans for their nation. And thus, God allowed his beloved to experience the consequences of their own actions.  The nation was in exile. The temple was in ruins. Family members had died during the siege. There was certainly a lot to be sad and cry about.  It was a dark, dark night in the chapter of Israel's history. It was a chapter, too, that I bet they'd wish that God would forget.
In particular when we read earlier in the book of Jeremiah, such as in chapter 5, we hear how bad things had gotten. Jeremiah was asked by God to tell the Israelites: "Announce this to the house of Jacob and proclaim it in Judah; Hear this you senseless people... [you] have stubborn and rebellious hearts..." Not exactly the warm fuzzies anyone would want to hear.
The nation of Israel, like Peter, rightfully shared guilt. They'd messed up. They could have assumed that the relationship and the shared history was over.
But,  the tune of verse 31 of Jeremiah chapter 31 tells a different story. "The days are coming, declares the Lord, when I will make a new covenant with the people of Israel and the people of Judah."
I don't know if you are like me, but when I mess up (and I know it!) there's nothing more I want to do than bury my head in the couch for a while. Most certainly, I don't want to hear of some new hopeful plan. Licking our wounds feels good for a while, doesn't it? But, the Lord would have none of it.
Sure, Israel had messed up. Sure, they'd fallen short. Sure, they'd broken all of the covenants they made with God up Mount Sinai. They'd worshipped other gods. They'd had affairs. They'd not kept the Sabbath. They'd not welcomed the foreigner or blessed the stranger. It was grounds for divorce.
And so, because Israel had broken the covenant, God had EVERY reason to set them aside.  Israel had certainly checked all the boxes that were grounds for divorce. God kept God's end of the deal, but Israel had not. God could walk away knowing God did all that could be done.  Certainly, God could try again with this "my chosen people" business with another group.
But, instead, a re-marriage ceremony is offered. God says to Israel verse 33:"This is the covenant I will make with the people of Israel after that time . . I will put my law in their minds and write it on their hearts."
Stacy Simpson writes of this God we encounter in Jeremiah saying, " In the evangelical tradition in which I grew up, we spoke of "letting Jesus into our hearts." He stood there patiently and knocked, waiting as long as it took, and when we were ready, we swung the door open and invited him in. But, the God of Jeremiah will have none of that. This God has grown weary of people's inability to keep his law. No more will the covenant be written in stone, a covenant which was external and could be broken. Instead . .. God says "I will write it on their heart." The heart of the entire people will bear the covenant."[ii]
God takes an active role in restoring the broken relationship. Which is another way of God going to marriage counseling with Israel saying, "Let's start over. Because I want to make a new relationship with you."
But, how could God do this? Doesn't God remember all the pain of heartache, rejection and loss? Doesn't God know that if he works toward reconciliation that it all might go sour again?
Such is why the final verse of promise is important. Look with me at verse 34 as the Lord says, "For I will forgive their wickedness and will remember their sins no more."
This new relationship was based on 100% forgiveness. To move forward and to have a chance of the coming of the new-- the past needed to be forgotten. And, God makes this move.
How many times in relation to the topic of "forgiveness" have you heard the phrase, "forgive and forget?" And I think as equally number of times that this phrase is spoken aloud, thoughts of those who hear it also think, "I cannot forget. Maybe I can forgive, but forget is something I can't do."
For there's something about the human brain, isn't it that just wants to hold on to things, especially the unfavorable stuff.
In a recent conversation with a friend, we sat around a coffee table and recounted all of the negative things family members, classmates or even perfect strangers said to us at one point in our lives. And it was easy to make the list long. And if you were to make a list too, I'm sure you could without difficulty make one.
There was that time in the 4th grade that one of the well-liked, well-dressed girls told you that you were fat and your teeth were crooked. You've never felt the same about your body since.
There was that time in college when you rushed for a fraternity only to not make the cut because you family name didn't have enough money associated with it. You've been trying to make as much money as you can with your chosen career ever since.
There was that Christmas holiday when who you thought was your favorite aunt came over and found fault with all your home's decor. You've been afraid to host a family gathering since.
And there was that time you expressed interest in painting and began creating beautiful pallets of color and texture and a friend walked into your studio said, "Well maybe in 10 years you'll find some talent." You've put down the brush ever since.
No matter what your  "there was this time" story is, I think it is safe to say that we all have them. We all have times in our lives that something has been said to us or about us that we'd wish we could forget.
So what good news this is to all of our ears-- what a promise in the night God's gift of a new relationship can be!
For just as we mess up, as the nation of Israel did time and time again, and just as Peter denied Jesus on a night when it mattered the most, we worship a God who promises us a new start.
But not just  any old new start. A new start where those chapters in our lives that we most want to forget are forgott
en, but also the painful wounds imposed on us by others can also be forgiven. We are not God of course,  so we probably are never going to be able to forget the ill that has been done and said against us, especially those deeply traumatic memories. But, we take heart and remember that  God can do what we can't. God can forget so we can live. And, as beloved children of the heavenly parent, we too have words of this covenant are written on our hearts-- so no matter what, we'll never be left alone. We have a sign of God's relationship always with us. There is nothing we could ever do that would not keep God's love from us. Nothing.
So in light of this, and in response to this sermon today, I want you to find a comfortable seated position where you are right now for a moment of meditation. Clear everything off your lap and place both feet on the bottom of the floor.  And, close your eyes and take your hands and place them at the center of your lap with your palms facing open.  And right now, I want you to call to mind the two things that we talked about in the sermon for this morning.
1. Something you'd done in your life that you'd wish God would forget.
2. Something someone has done to you that you wish you could forget.
And in the quietness of this moment, I want you to imagine that you are holding both of these somethings in your hands. Holding them tight by balling up your fists with them in it. One in one hand and one in another.
Now, as I re-read the passage for this morning-- Jeremiah's promise in the night, I invite you to listening closely. And, as you listen imagine these somethings being released. Of letting them go, as you are able, why? because in grace, God has already forgotten.[iii]
31The days are surely coming, says the Lord, when I will make a new covenant with the house of Israel and the house of Judah.32It will not be like the covenant that I made with their ancestors when I took them by the hand to bring them out of the land of Egypt—a covenant that they broke, though I was their husband, says the Lord.33But this is the covenant that I will make with the house of Israel after those days, says the Lord: I will put my law within them, and I will write it on their hearts; and I will be their God, and they shall be my people.34No longer shall they teach one another, or say to each other, "Know the Lord," for they shall all know me, from the least of them to the greatest, says the Lord; for I will forgive their iniquity, and remember their sin no more.
Thanks be to God who makes all things new!
AMEN
---
[i] "Lectionary for October 17, 2010: Jeremiah 31:27-34" Working Preacher. http://www.workingpreacher.org/preaching.aspx?lect_date=10/17/2010
[ii] "Branded by God" The Christian Century http://www.religion-online.org/showarticle.asp?title=2032
[iii] Thanks to David Lose of Working Preaching.Com for this idea.